2016 Chesapeake Cup 2016 – March 26, 2016
Thank you to all the clubs that came out to enjoy a perfect day of Spring soccer! Please mark your calendars for the 8th annual Fall Blast to be held November 19, 2016!
---
The Chesapeake Cup is a GotSoccer® Scheduler event! GotSoccer points will be awarded per GotSoccer® age group guidelines!
Previous Year Chesapeake Cup Standings –
2015 Chesapeake Cup Standings (219 downloads)
2014 Chesapeake Cup Standings (61 downloads)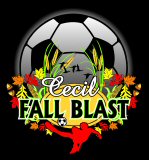 The 7th Annual Cecil Fall Blast – November 21, 2015
THANK YOU for coming out to play in our 2015 Fall Blast! We hope you had a great time!
Please consider registering for our 21st Annual CHESAPEAKE CUP being held on March 26, 2016! Click here to register
Fall Blast Standings from past years